About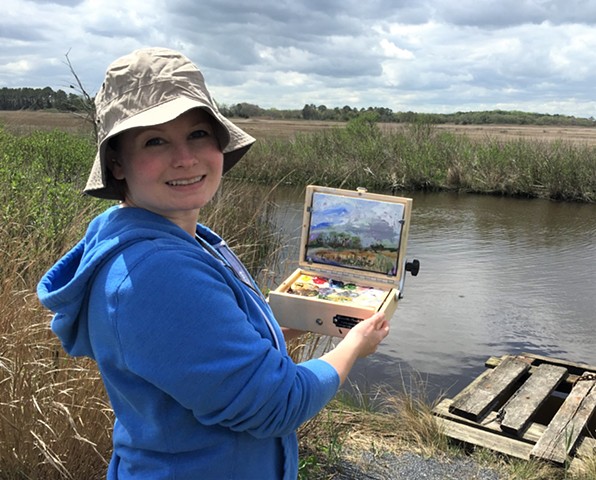 Bio
b.1984, Fairfax, Virginia, United States
I was an outdoor child. A relic from the era before children had portable devices, I played with frogs and turtles and tramped through mud. Gardening, nature walks, and scenic drives were how my father and grandmother both taught and entertained me. They each contributed to my early creative inclination, and they taught me to pay attention to and appreciate the world around me. This creative appreciation first manifested as a passion for SLR photography. I exhibited photographs as a kid, but I always knew I wanted to paint. The tactile quality of paint called out to me.
I delayed college for a time and pursued administrative work, but eventually I returned to my desire to paint and attended Sandhills Community College in Southern Pines, NC. Graduating with an Associate Degree in fine arts summa cum laude, I transferred to an art school in Washington, DC. However, frustrated with how little time I spent actually painting in art school, I left to continue my art education on my own terms. I worked professionally in art galleries for a few years while continuing my studio practice.
Today, I work out of my home studio in Baltimore, Maryland, where I have access to dozens of natural treasures and special hikes. I share a love for outdoor travel and hiking with my husband and many of our favorite places inspire my work.
A statement about my current work and painting practice:
There is much overlap between my creative practice and my Jewish spirituality. Looking for the good is an essential tenet of my Jewish experience (Hakarat HaTov) and because I'm detail-oriented by nature, paying attention to the details and looking for the good in things often leads me to artistic inspiration and even a slight obsession with new subjects. I approach painting my subjects with a sense of urgency, whether painting on location en plein air or in the studio, I seek to capture the detail and feeling of the moment, which is often fleeting. I like to say I'm pursuing fleeting moments with a paintbrush in hand!
Working across multiple media, I most frequently use acrylic and oil paints, water-soluble media, graphite, and collage. I also enjoy sketching and painting en plein air on hikes, seeking out the same themes of landscape and natural subjects that I enjoyed being in as a kid.
My playful, semi-abstract work is grounded first in observation; I begin my paintings by working from life whenever possible. I observe and pay attention to the details, then I move to translating the felt experience into visual form, which leans heavily on expressive mark-making, play, and experimentation. Ultimately, I seek to emphasize feeling over form in my work, yet I enjoy retaining a loose representation of the subject. The experience of creating the painting also becomes a part of the story and I don't paint to compose a perfect scene, I paint to communicate my experience of feeling and finding the good.