About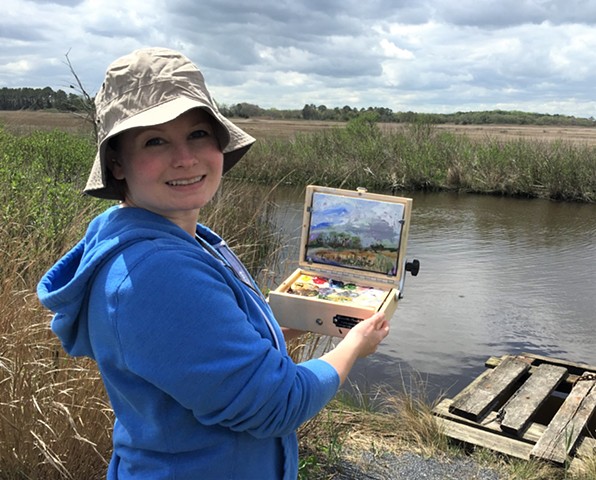 Bio
born 1984, Fairfax, Virginia, United States
It was through photography that I first found a passion for visual art. My dad bought me an old SLR camera and I eventually learned how to manipulate the aperture, shutter speed and composition to communicate mood and feeling with pictures. As a kid I exhibited my own photographs in juried competitions but in college my attention shifted to painting as my primary art focus.
I graduated with an Associate Degree in fine arts summa cum laude from Sandhills Community College in Southern Pines, North Carolina, where I lived for several years as a young adult. I also studied at the Corcoran College of Art & Design in Washington, D.C. for a time before deciding to continue my art education on my own terms. I spent some years working professionally in retail art galleries while continuing my studio practice. I now work out of my home studio in Baltimore, Maryland.


A statement about my current work
My painting practice is born from an emotional place. I strive to paint things as I feel them, not just as I see them. This process results in paintings that are both an impression and an expression of my subject. I use the act of painting to make connections between our inner, private worlds of feelings & hopes and the energy of the natural world-- whether the subject be a landscape, floral arrangement, or portrait. I believe all living things are connected.
I was an outdoor child, and as an adult still, my soul flies when I get to spend time outside. Much of my love for the outdoors is rooted in early memories of nature walks and gardening with my grandmother and father. When I was a kid running around with my camera, I was very drawn to photographing the landscape and natural subjects. I feel the same pull now, as an adult and painter. I prefer to paint from life when I can whether by painting en plein air or by setting up live bouquets in the studio. At times I will also paint landscapes in the studio, using my own sketches and memories of place as a reference.
Whether in the studio or outdoors, my painting process begins with observation; I look for something in the object or scene that strikes me, then the painting flows from my emotion or response to the subject. Although I infuse my work with my own personal experience while creating it, I believe the loose gestural paint gives an opportunity for viewers to find their own experiences and interpretation in the image.
I use a variety of media in my studio and travel paint kit: including acrylic and oil paints, watercolor, charcoal, and pastel crayons. The painting mediums and methods are simply tools that allow me to paint expressively. I like to push boundaries and have fun with my materials!