About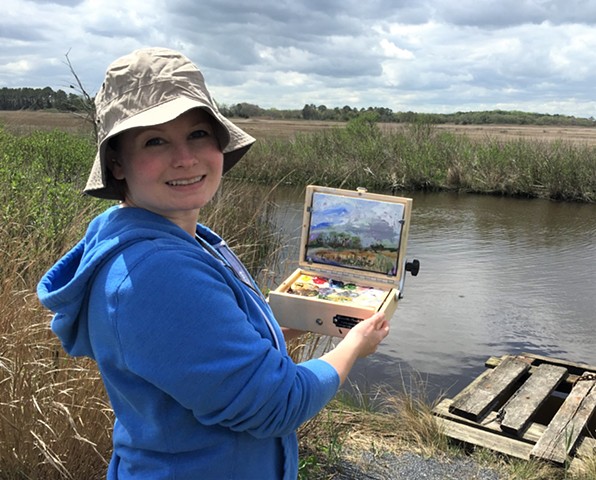 Bio
born 1984, Fairfax, Virginia, United States
I was an outdoor child. I carry early memories of nature walks and gardening with my grandmother and father. They each contributed to my early creative inclination and appreciation for nature, which began with a passion for SLR photography in middle school. As a kid, I exhibited my own photographs in competitions. I always knew I wanted to paint; the tactile quality of the work called to me. In college, I was able to learn the fundamentals and painting became my primary focus.
I graduated with an Associate Degree in fine arts summa cum laude from Sandhills Community College in Southern Pines, North Carolina, where I lived for several years as a young adult. I later studied at the Corcoran College of Art & Design in Washington, D.C., before continuing my art education on my own terms. I spent some years working professionally in art galleries while continuing my studio practice. I now work out of my studio in Baltimore, Maryland.


A statement about my current work
My painting practice is born from an emotional and spiritual place. Noticing the good is an essential part of my Jewish experience (Hakarat HaTov) and I employ the same principle of finding the good in my art practice. I'm pursuing fleeting moments with the goal of capturing and preserving them – a flower in bloom, an unguarded moment in a portrait, the ever-changing landscape. I approach painting with a sense of urgency.
My paintings are a little wild, messy and vibrant. I work across multiple media, most frequently using acrylic, oil, charcoal, ink and water-soluble media. During the warm months, I hike with my plein air kit and paint on the trail. Other times I'll set up live flowers in my studio. Painting directly from the subject is my preference, but if I can't, I'll lean on my sketchbooks, drawings and memories. I've started filming my hikes and hope to use those clips to immerse myself in the sights and sounds of the outdoors while inside my studio in the winter.
I strive to paint things as I feel and experience them, not just as I see them. My style is loose and expressive, and incorporates the use of gestural brush strokes, mark-making and collage - all employed to convey the unseen feelings and poetry of the subject.