About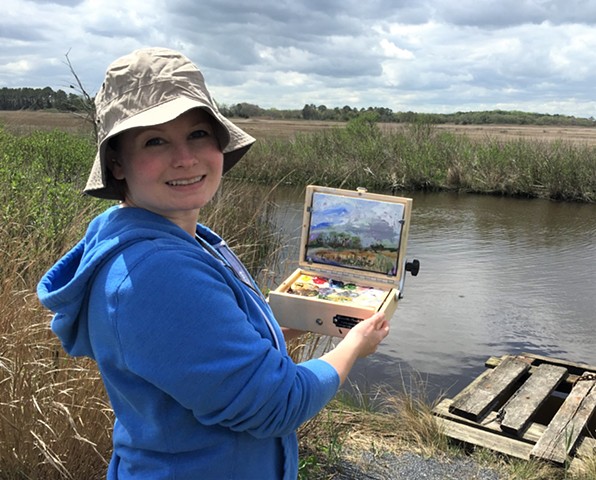 Bio
born 1984, Fairfax, Virginia, United States
I was an outdoor child. A relic from the era before children had portable devices, I played with frogs and turtles and tramped through mud. Gardening and nature walks were how my father and grandmother both taught and entertained me. They each contributed to my early creative inclination, and they taught me to pay attention to and appreciate the world around me. This creative appreciation first manifested as a passion for SLR photography. I exhibited photographs as a kid, but I always knew I wanted to paint. The tactile quality of paint called out to the little girl who used to like to play in mud.
I delayed college for a time and pursued administrative work, but eventually I returned to my desire to paint and attended Sandhills Community College in Southern Pines, NC. Graduating with an Associate Degree in fine arts summa cum laude, I transferred to an art school in Washington, DC. However, frustrated with how little time I spent actually painting in art school, I left to continue my art education on my own terms. I worked professionally in art galleries for a few years while continuing my studio practice. Today, I work out of my home studio in Baltimore, Maryland.


A statement about my current work and painting practice
My painting practice is born from a sensitive and spiritual place. Noticing is a value learned from my upbringing and noticing the good is an essential part of my Jewish experience (Hakarat HaTov). I also employ this principle in my art practice; I'm pursuing fleeting moments with the goal of capturing and preserving them – a flower in bloom, an unguarded moment in a portrait, the drama and changing atmosphere of a landscape. I approach painting my subjects with a sense of urgency to capture the detail or moment before it's gone.
In the studio, my inner child runs free, and my paintings are a reflection of that: messy to make, vibrant and energized. I work across multiple media, most frequently using acrylic and oil paints, water-soluble media, and collage. I also enjoy sketching and painting en plein air on hikes. Although my paintings are loose and abstract, painting directly from the subject is my preference. I don't paint to compose a perfect scene; I paint to communicate my experience of feeling and finding the good.
I am someone who feels so deeply. Throughout points in my life, I have been discouraged from showing this inherent sensitive quality and have been shushed and stifled. I have come to recognize that feeling is my superpower. Feeling/noticing/seeking out/experiencing the good details that my soul clings to, and painting about it… this is my purpose.